Selfish to be Selfless
a month ago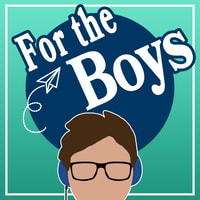 Welcome back to For the Boys, a podcast for the boys, by the boys. In today's episode I have a great discussion with Dr.Kojo about male mental health and why so many of us tend to hide from it. Without spoiling to much, we talk about the issues that unresolved mental health can cause, how to help that, and more importantly the importance of helping yourself.
Don't forget to follow me on instagram and twitter for more show updates and posts! And come join the new discord! We have a whole community of helping each other out :) All my links are at linkkle.com/aidan If you need someone to talk too or if you have a problem don't be scared to DM me, my DM's are always open.
Dr.Kojo: Dr. Kojo Sarfo, DNP, PMHNP-BC is a Ghanaian-American Psychiatric-Mental Health Nurse Practitioner, entrepreneur, and writer. He graduated from The University of West Alabama with his Associate's Degree in Nursing and then obtained his Bachelor's in Nursing from Western Governors University. He went on to obtain his Doctorate in Nursing Practice degree from Augusta University with a specialty in Psychiatry. He has three years of teaching experience as an adjunct faculty professor with the College of Nursing at his alma mater, Augusta University
Links: youtube.com/kojosarfo tiktok.com/@dr.kojosarfo instagram.com/drkojosarfo www.kojosarfo.com  
I am not a professional therapist or worker. These are all just my opinions. If you are in immediate danger contact the authorities.
Find out more at http://fortheboyspod.com