Is Masculinity Toxic? Discussion with Christian Lopez
Discussion with Christian Lopez about masculinity in our culture.
6 months ago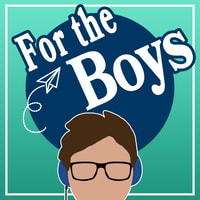 Welcome back to For the Boys! In this episode I had the opportunity to sit down and have a discussion with Christian Lopez. We talked about many things but kept returning to the same question about masculinity. Is it toxic? Well the short answer is no it isn't. Then the follow up question is what defines being a man? Well we talked about that too :) Don't forget if you ever need someone to talk to, just DM me on instagram or twitter @fortheboys_pod. Following me there is also the best way to keep up with what's happening behind the scenes! I hope you enjoyed the episode and have a great day!
Christian's accounts: Instagram @clopey Facebook page https://www.facebook.com/groups/2523230051072858/ Podcast "behind the maskulinity" https://podcasts.apple.com/us/podcast/behind-the-mask-ulinity/id1474423662. Patreon: https://www.patreon.com/BehindTheMaskulinity
I am not a professional therapist or social worker. These are all just my opinions. If you are in serious danger please call the authorities or a professional.
Find out more at http://fortheboyspod.com